Highland Park High School - Home of the Scotties


CLASS OF 1961
In Memory
Larry Schafer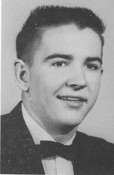 Larry D. Schafer, 68, Topeka, passed away on Wednesday, October 5, 2011 at a local hospital.

Larry was born January 5, 1943 in Topeka, the son of Ben and Etta (Shepard) Schafer. He graduated from Highland Park High School in 1961 and Washburn University with a Bachelor of Education degree.

He taught at Highland Park Junior High and Capper Junior High and Clark's School of Business in Topeka. While at Clark's he became an Admissions Representative and later moved to Salina where he was the Director of Admissions for Brown Mackie College. Later he moved back to Topeka and worked for the Remington School of Business as the Director of Admissions. He was transferred to Colorado Springs campus where he retired in 2010.
He attended First Assembly of God Church in Topeka.

Larry married Diane Milliken on August 6, 1966 in Topeka. She survives. Other survivors include daughter, Tammy (Jim) Demaree, Salina; sons, Larry Schafer, Jr., Wichita, Ben Schafer, Lawrence; granddaughters, Grace, Olivia, Cate, Claire, Chloe; mother, Etta Schafer, Topeka. He was preceded in death by his father.

Funeral services will be held at 10:00 a.m. on Monday, October 10, 2011 at Penwell-Gabel Southwest Chapel, 3700 SW Wanamaker Road. Burial will follow at Mt. Hope Cemetery. Larry will lie in state at the funeral home after 3:00 p.m. on Sunday and visitation will be from 6:00 to 8:00 p.m.

Memorial contributions may be made to First Assembly of God Church, 500 SW 27th, Topeka, KS 66611 or Salvation Army, PO Box 412577, Kansas City, MO 64141.