Highland Park High School - Home of the Scotties


CLASS OF 1961
In Memory
Linda Larue (MelvIn)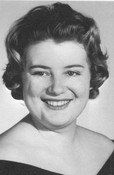 Linda Anne (LaRue) Melvin
Linda Anne (LaRue) Melvin, 58, of Olathe died Thursday, March 8, 2001, at Overland Park Regional Hospital.
She was preceded in death by her parents, Lynn Kelsey and Dorothy Mae (Green) LaRue. Survivors include her son, Terrance L. Melvin, Olathe; daughter, Lisa A. Wertz, Aurora Colorado; two sisters, Jeri E. Rickettes, Meriden, Kansas, and Marsha L. Smith, Carbondale, Kansas, and five grandchildren.
graveside services will be at 10 a.m., Saturday, March 10, at the Lincoln cemetery, Lebo, Kansas. Friends my call from 7 to 9 p.m. today at the W.L. Frye and Son Mortuary and Crematory, Olathe.
Memorial contributions may be made to the National Kidney Foundation of Kansas and Western Missouri, 1900 W. 47th Place, Suite 310, Westwood, Kansas 66205 or The American Diabetes Association, 1316 Parkdale Blvd., Columbia, Mo. 65203.