Highland Park High School - Home of the Scotties


CLASS OF 1961
In Memory
Larry Huggins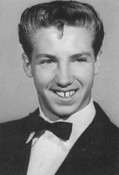 LARRY KENNETH HUGGINS - Larry Kenneth Huggins, 61, Topeka, died Friday, Feb. 6, 2004, at a Topeka care center. He was born Jan. 22, 1943, in Topeka, the son of Miller Kenneth and Wilma Jean Huggins. He was a 1961 graduate of Highland Park High School.
Mr. Huggins was employed by Santa Fe Railway for 27 years and more recently by Heinz/DelMonte in Topeka.
Larry will be remembered fondly as loving nature, herpetology, and being outdoors. He loved spending time with his family, abundant laughter, and enjoyed his life to the fullest.
He was preceded in death by his father, and by his son Arick E. Huggins. Survivors include; two daughters, Laura K. Leathers, Topeka, and Annette Wendy Huggins, Lawrence; his mother, Wilma Jean Huggins, Topeka; a sister Charlotte Irene Brown, Topeka; and five grandchildren, Nuely, Jake and Adam Huggins, and Lacy and Sarah Leathers; and assorted stepgrandchildren.
Memorial services will be at 1 p.m. Wednesday at Highland Park United Methodist Church 2914 S.E. Michigan. Mr. Huggins was cremated. Inurnment will be in Mount Hope cemetary in Topeka. Memorial contributions may be made to the Heart of America Hospice, 3715 S.W. 29th, Topeka, Ks, 66614