Highland Park High School - Home of the Scotties


CLASS OF 1961
In Memory
Ann Houdyshell (Koehler)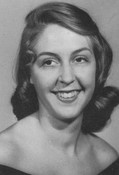 The Topeka Daily Capital
Monday, May 10, 1965
Ann H. Koehler, 22, Dies: Rites Tuesday
Mrs. Ann Houdyshell KOEHLER, 22, 4501 E. 6th, died of Hodgkin's disease Sunday, May 9, 1965 at a Kansas City hospital. She was born March 17, 1943 in Topeka and spent most of her life in Topeka. She was graduated in 1961 from Highland Park High School where she was the Highlander Yearbook queen, a cheerleader and a member of the Student Council.
Survivors include her husband, Douglas H. Koehler, at home; a daughter, Kelly Ann Koehler, at home; her parents, Mr. and Mrs. G.S. HOUDYSHELL, Route 4; and three sisters, Mrs. Gilbert ANDERSON, 619 Taylor, and Sue Houdyshell and Janie Houdyshell both of Route 4.
Services will be at 9:30 a.m. Tuesday at Penwell-Gabel Funeral Home with burial in Mount Calvary Cemetary. Rossary will be recited at 7:30 p.m. today at the funeral home. Memorial contributions may be made to the American Cancer Society.