Highland Park High School - Home of the Scotties


CLASS OF 1961
In Memory
Dennis Gardner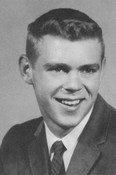 DENNIS DELL GARDNER - Dennis Dell Gardner, 59, of Jenkins, died Thursday, May 15, 2003, in St. John's Regional Health Center, Springfield. Mr. Gardner was born October, 25, 1943, in Wichita, Ks, the son of J.E. "Speck" and Dorothy (Furnish) Gardner. On December 18, 1998, he was united in marriage to Vicki Barnes. She survives.
Dennis received his education in Topeka and attended Washburn University in Topeka. He was a member of the Orient Masonic Lodge #51. He was a junior partner in the Cunningham Shields Clothing Store in Topeka. For the last ten years he was employed by Justin Boot in Cassville. He Served in the Kansas Army National Guard and was a member of the Community Faith Chapel.
Survivors include: his father; one some, Doug Gardner, Wamego, Ks; one daughter, Amy Shockley, Washburn; two step-daughters, Penny Mills, Springdale Ark, and Alecia Helms of the home; and three grandchildren. He was preceded in death by his mother.
Funeral services were held Tuesday, May 20, 2003, at the Community Faith Chapel under the direction of Williamson Funeral Home, Cassville. Pastor Doyle Russell and Gary Lester officiated. Burial was in the Hilton cemetery, Wheelerville. Memorial contributions may be made to Community Faith Chapel in care of the funeral home.