Highland Park High School - Home of the Scotties


CLASS OF 1961
In Memory
Wayne Burd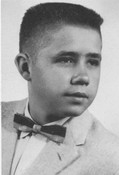 WAYNE D. BURD - Wayne D. Burd, 53, Topeka, died Saturday, April 26, 1997, at a Topeka Hospital. Cause of death was unavailable.
He was born July 14, 1943, in Osage City, the son of Robert O. and Helen Hedberg Burd, and spent most of his life in Topeka. He was manager of development services and management services for Santa Fe Railway and had worked for the railroad for 30 years.
He was a member of Highland Heights Christian Church and North Topeka Optimist Club. He was married to Constance Curry Sept. 12, 1964, in Topeka. She survives.
Other survivors include a son, Brian Burd, Topeka; a daughter Ginger Shelley, Topeka; his mother, Helen Burd, Topeka; two brothers, Keith Burd, Denver, and Robert Burd, Ankeny, Iowa; and two sisters, Debra Burd, Topeka, and Dodie Gibbs, Gresham, Ore.
Services will be at 1 p.m. Wednesday at Highland Heights Christian Church. Burial will be in Mount Hope Cemetery. Mr. Burd will lie in state after 6 p.m. today at Penwell-Gabel Mid-Town Funeral Home where visitation will be from 7 to 8 p.m. Tuesday.
Memorial contributions may be made to Highland Heights Christian Chruch 4803 S.E. 29th, Tecumseh, 66542, or to the organization of the donor's choice.