Highland Park High School - Home of the Scotties


CLASS OF 1961
In Memory
Francis Brooke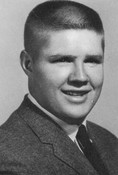 1/15/1943 - 9/26/2005
FRANCIS "BUD" BROOKE, 62, of Sioux Center, Iowa died Monday, 9/26, at the Sioux Center Community Hospital.
A funeral mass will be held Saturday, 10/1, at 10:30am at Christ the King Catholic Church of Sioux Center with Father Douglas Klein officiating. Interment will follow in Memory Gardens Cemetery of Sioux Center.
Visitation will be held Friday, 9/30, at the Memorial Funeral Home of Sioux Center from 2pm to 8pm, with the family present from 6:30pm to 8pm. A Knights of Columbus Rosary will be held Friday at 6pm followed by a Parish Scripture Service at 6:15pm at the Memorial Funeral Home of Sioux Center.
FRANCIS O. "BUD" BROOKE, JR. was born January 15, 1943 in Topeka, Kansas to Francis O., and Elizabeth May (Streeter) Brooke, Sr. Bud was raised in Topeka and graduated with the Class of 1961 from Highland Park High School.
As a young man Bud began running a printing press for the Kansas State printing office. He served a short time in the US Army. In 1969, he married Connie L. (Crain) Hempen in Topeka, they later divorced. Bud was employed by Seymour Foods in Topeka in their maintenance department. In 1981, as a result of his training and knowledge, Bud was asked to transfer to a new plant in Sioux Center known as Siouxpreme Egg Products. Bud worked in the maintenance department at Siouxpreme Egg for several years where he was in charge purchasing supplies and maintaining plant equipment.
On April 30, 1983 Bud was united in marriage to Pamela Lynn Vonk. Pam and Bud made their home near Sioux Center during their twenty-one years of marriage. She preceded Bud in death on July 25, 2004.
Bud was a founding member of Christ the King Catholic Church of Sioux Center and a Fourth Degree Knight of Columbus. He an avid sports fan, however, auto racing was clearly a favorite. Bud particularly enjoyed NHRA Drag Racing and annually attended the National Spirit Car Races in Knoxville, Iowa. His spare time was often filled with woodworking projects.
Surviving are his three daughters: Kimberly S. Brooke of Mayetta, KS; Patricia A. Brooke of Kansas City, MO and Jackie D. (Clifton) White of Sioux City, IA along with two grandchildren and five great-grandchildren. Bud is also survived by his brother and sister-in-law, Patrick E. and Marilyn Brooke of Berryton, KS; his father-in-law and mother-in-law, Peter and Donna Vonk of Sioux Center; sister-in-law and brother-in-law, Brenda and Rick Dolieslager of Sioux Center; brother-in-law and sister-in-law, Warren and Sandi Vonk of Sioux Center and brother-in-law, Daniel Vonk of Sioux Center.
Bud was preceded in death by his wife, Pamela; his parents and brother, Michael Brooke.